DscoopX Conference a resounding sucess
The Dscoop conference has grown continuously—from 200 attendees in 2007, to 2400 in 2014. We've developed promotional materials for the Dscoop conference since it began, and have helped the event thrive during tough economic times. Our soup-to-nuts work on the conference covers everything from developing the annual theme and graphic identity, to creating digital marketing assets (e-mail marketing, website, and presentation design), print promotions and attendee materials, a full suite of onsite signage, a conference video, and the first conference mobile app (to help attendees successfully navigate DscoopX).
Leading up to an event is always intense; we thrive in fast-paced conditions. Our goal is always to make things easier for our clients. Coordinating with vendors, we handled printing, signage, email marketing automation and AV—to achieve quick turnaround times, stay ahead of schedule, and make the process seamless. Our Dscoop client team appreciates that we're responsive, committed and enthusiastic—not to mention budget-conscious.
Our work with the Dscoop conference allows us to explore the latest printing trends and cross-media marketing techniques, which we then apply to other client work. Thanks to this great client relationship, we've honed our expertise in variable imagery and data, PURLs (personalized URLs) and marketing automation tools.
Over the years, I've worked with a lot of designers, and Chris is a great active listener, which is challenging. He's not obsessed with putting his own stamp on something; he's very concerned about doing work that's effective. That, to me is very important.

– Mark Sarpa, Dscoop North American Chairman
About Dscoop
Dscoop (Digital Solutions Cooperative) aims to provide education and networking opportunities for its members, who own and operate HP Indigo and large-format digital printing presses. Our Cipher Creative Group team is deeply involved in the organization, constantly in touch with directors and members so we have a great sense of the industry's business climate, needs and emerging technologies. That connection enables us to develop conference materials that really resonate with members and drive attendance.

Conference Communications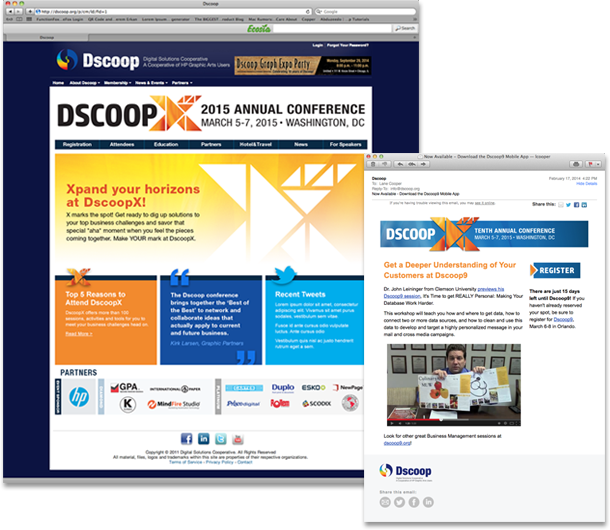 1 Website and E-mail Template
As in past years, the Dscoop Conference website and emails are the most trafficked and read materials by the Dscoop community. Working within the framework of the existing technologies, we created templates that were visually consistent as well as easy to use by internal Dscoop teams.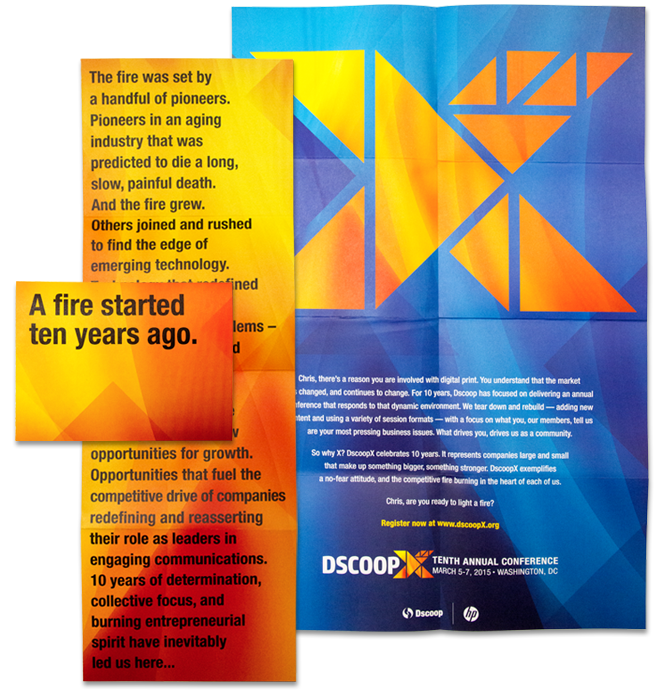 2 Save the Date Mailer
The save the date mailer was sent to the entire Dscoop audience. It marked the official kickoff of the DscoopX campaign. Physically it began as a small piece but unfolded to reveal an anthem of sorts that introduced the conference theme – DscoopX, The X graphic was made up of ten triangles representing the ten years of Dscoop's existence.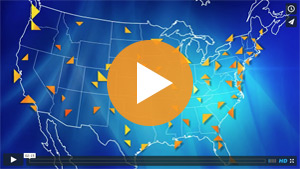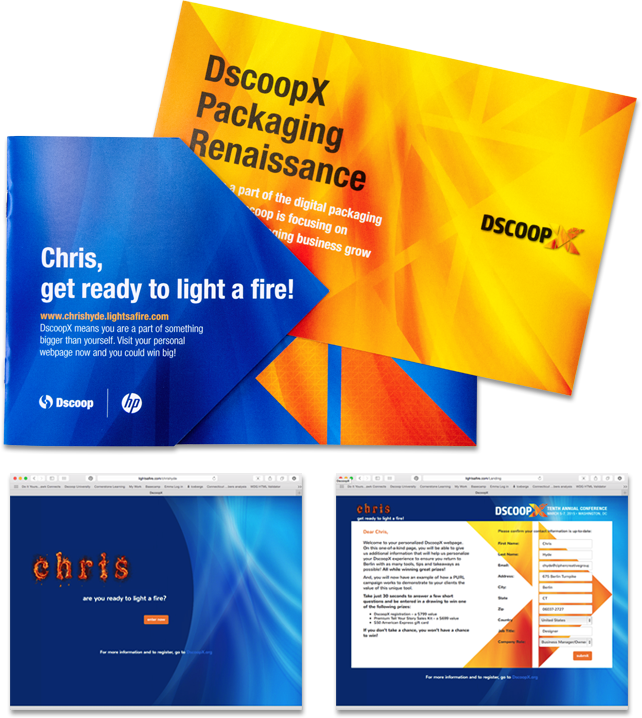 3 Preconference Guide
and PURL
Ten weeks prior to the event targeted audiences received the DscoopX preconference guide which contained sessions listings for functional tracks – sales & marketing, management, operations and technical. The piece was personalized, guiding members to take a survey on what they would like to see, hear and do at the conference to get the most out of the experience. The personalized URL surveys, built by Direct Mail Express, garnered valuable feedback which helped Dscoop refine conference offerings as well as help customize future materials to respondents.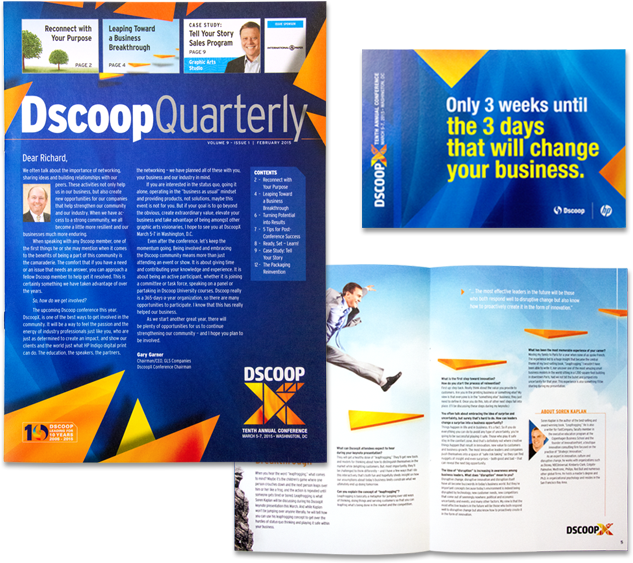 4 Dscoop Quarterly and
Last Chance Postcard
The Dscoop Quarterly newsletter was released 5 weeks prior to the event. It contained articles from the keynote speakers and descriptions of highlighted sessions in each of the functional tracks. Three weeks prior to the event customized postcards were sent to functional segments with applicable highlighted sessions.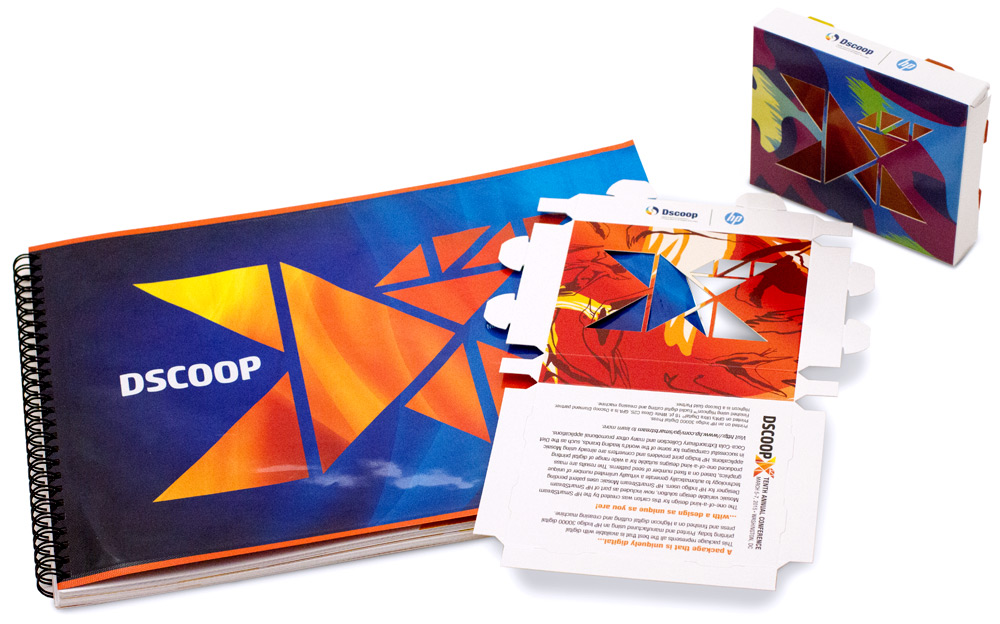 Onsite Guide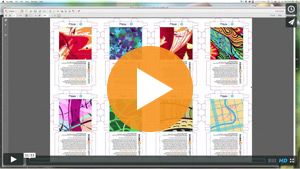 While the onsite guide was in process, John Rogers, Global Executive Director of Dscoop, called one early afternoon with a request. "What can we do that knocks attendees socks off that combines all of the HP Indigo digital printing technologies?" he asked. Adding, "Can we have ideas for the morning?" A pad full of sketches and a few mockups later, we had two ideas that took into account the capabilities of five different presses, three different finishing processes, eight different substrates. And throw custom zip-lock cover including a die-cut insert with a unique printed graphic for each of the more than 2,000 attendees. Click on the video thumbnail to see how it all came together.